From 23 to 26 September 2004
Interaction Design lands in Florence
After the success of the Triennale exhibition, held during the Milan Furniture Fair (This is Today- The Invasion of the interactive body snatchers), Interaction Design Institute presents a series of new projects in Florence during the Firenze World Vision event.
A presentation of some of the more fascinating projects created by the international community of interaction designers (students, professors and researchers).
Ivrea's interaction designers exploit the most advanced technologies (as well as the traditional ones, sometimes even flirting with out-of-date ones) to create objects and services that can offer us innovative products as well as moments of playful entertainment and of pure aesthetic pleasure.
An interactive wallpaper which, when touched lightly, enables you to activate your household appliances; a portable museum made out of an inflatable Ciccio (curiously inflated computer controlled interactive object.), a combat fight suit to turn you into a Ninja TV reviewer, a series of techno bags which react with stains when the mobile rings and jackets that can be adapted for all sorts of interactive actions.
This is a future which is gradually weaving itself into the present, that takes objects of every day use (like a bag, a TV set, a jacket with a hood, wallpaper) and transforms them. A mutation that is first about the physical object, but then also involves a change in behavioral patterns and the users themselves. These projects, products and services act as metaphors of possible behavioral patterns, they become suggestions for a present that sometimes struggles to become the future.
The interaction designer is thus like an alchemist-someone who can revalue the past -both in an ironic and disenchanted way- and look towards the future through a human lens. A humanist project that takes advantage of technologies to create objects and services which can provide moments of reflection as well as fun.
Interaction-Ivrea: Daniele Mancini, Matteo Pastore, Stefano Mirti, Walter Aprile
Sponsored By: Interaction Design Institute Ivrea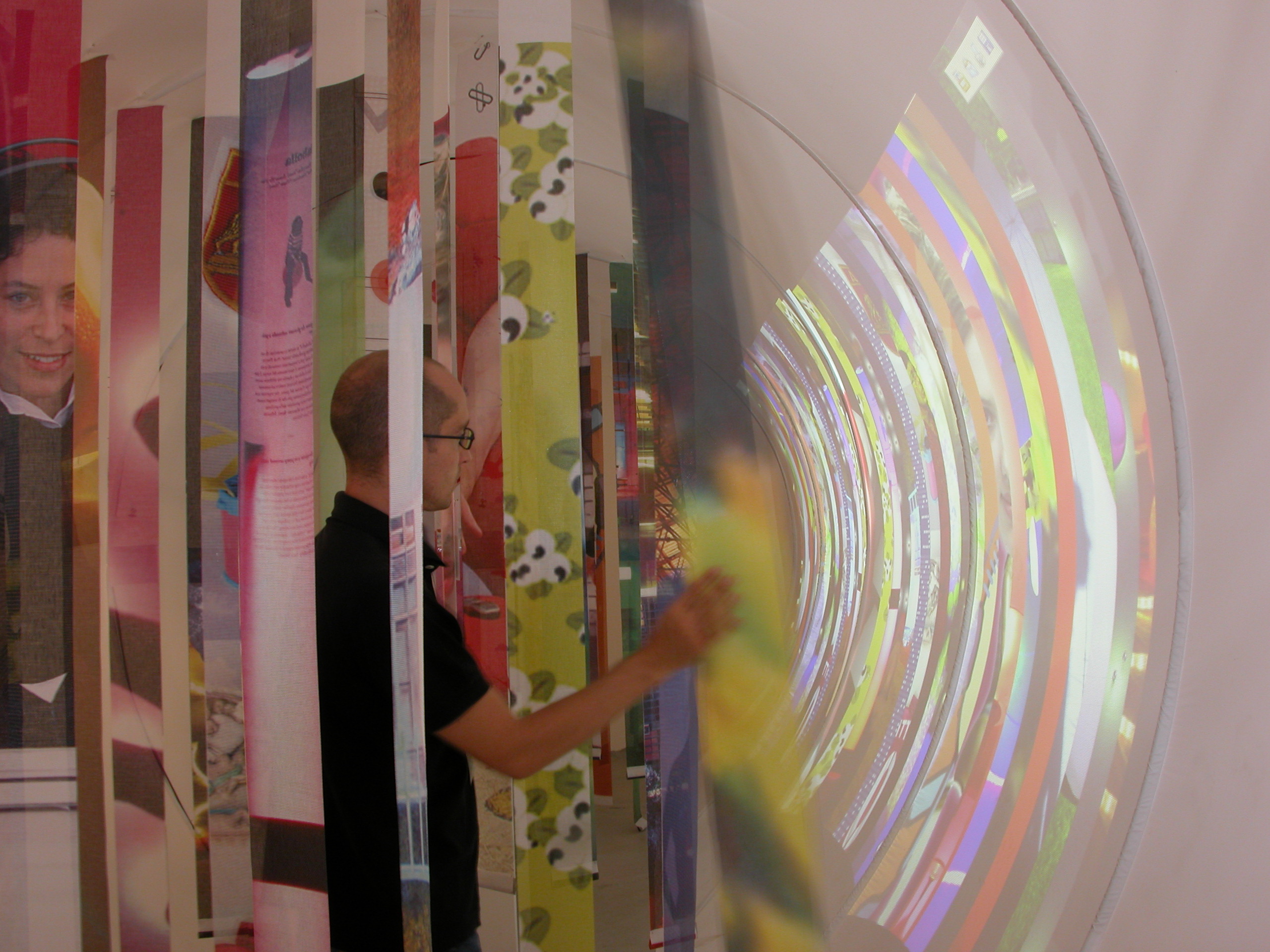 Reference
https://projectsfinal.interactionivrea.org/web/description/ex_worldvision_04.html
http://www.idlabstudio.it/it#archive-ivrea+firenze-world-vision